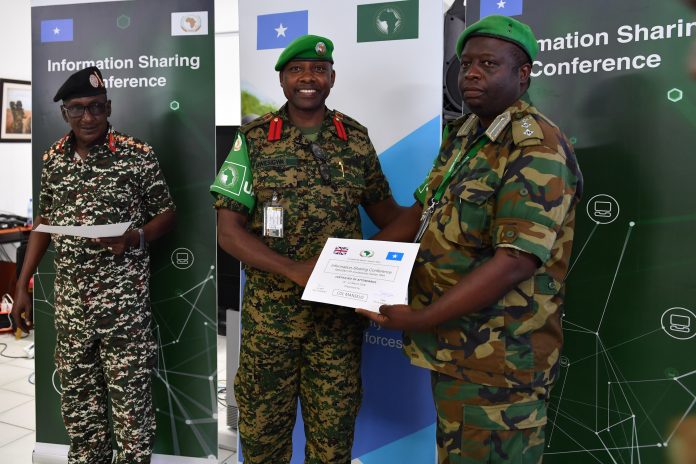 Mogadishu, 21 March 2018 – The third intelligence and information sharing conference, aimed at forging closer working ties between various intelligence actors in Somalia, concluded in the capital Mogadishu today, after three days of deliberations.
The Deputy Force Commander of the AU Mission in Somalia, Maj-Gen Charles Tai Gituai called for more efficient intelligence sharing modalities among the actors, in order to maximize results, during the opening of the conference on Monday.
"Intelligence must be collected and used in a way that ensures operational efficiency without threatening the legitimacy and impartiality necessary for the peace mission to carry out its work effectively," he said in his opening remarks.
The conference explored access to non-traditional information sources, discussed enhancement of intelligence sharing and dissemination, and emerging threats from terror group Al-Shabaab, even as the militants find themselves extremely weakened from the onslaught from the Federal Government, AU and partner forces.
"Intelligence is fundamentally important to a peace mission, to give decision makers multi-dimensional situational awareness through coordinated analysis of information, by the different components of a mission", Maj-Gen Gituai told participants, who included intelligence officers drawn from AMISOM's sectors, Somali security forces and key international security partners.
He stressed the importance of "effective processes and structures", that would ensure information gathered is shared and stored securely, for the benefit of all stakeholders.
The Deputy Force Commander cautioned participants on over-reliance on the sheer quantity of information, arguing that information overload may sometimes undermine accurate interpretation of data. "The situation we are in now, is that the question is no longer whether intelligence should be shared, but rather how, when, and to what effect."
"Part of the primary emphasis of intelligence/information sharing is to facilitate, identify, deter and respond to emerging terrorism-related threats and risks in a more streamlined system of which also benefits the agencies, in theatre, and local entities in supporting ongoing efforts to address security and threats," he said.
The Director of Operations of the Somali National Army, Gen. Mohamed Sheikh Madobe and AMISOM's Chief Military Intelligence Officer Col. Naboth Mwesigwa officiated the closing of the three-day forum.
"Mainly it was about coordination, information sharing, re-tasking, identifying our main objective, our goal and to harmonize gaps that were identified, so that we can get solutions to achieve our main goals," stated Col. Mwesigwa.
The conference was held with the support of the United Kingdom Mission Support Team (UKMST), and aimed at improving the mechanisms and coordination of information sharing among diverse groups, with emphasis on intelligence sharing, which has been vital in preventing terror attacks in the Horn of Africa country in the past.