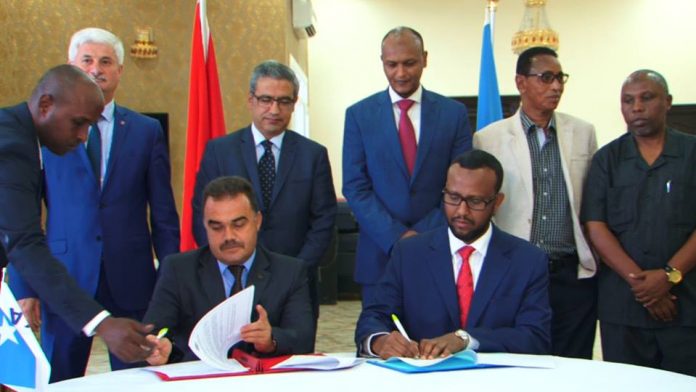 Turkey and Somalia on Sunday signed an agreement to reconstruct storage reservoir in Middle Shabelle region.
The project which will be implemented Turkish Cooperation and Coordination Agency (TIKA) aims to rebuild the Jowhar Off-Stream Storage Reservoir which will be used for irrigation and flood management.
Somalia's minister of Agriculture, Saeed Hussein said the deal will help Somalia in the agricultural production.
"This landmark pact will help the farmers in their productions by providing adequate water for irrigation. The project will also manage to reduce the floods," Hussein said.
The TIKA coordinator, Gilib Yilmaz who spoke at the signing ceremony which took place in Somali capital, Mogadishu said the project will focus on the rehabilitation of the reservoir which colloects water for future use.
" This project will deal with reconstruction of reservoir to collect the water from River Shabelle for irrigation when the level of river water decreases, it will easy for the formers to continue the production. This will help Somalia to increase the farm production," Yilmaz said.
Turkish Ambassador to Somalia, Olgan Baker, who attended the signing ceremony said his country is commited to support Somalia and its people.
" Turkey plans to complete the implementation of several development projects in Somalia  before the end of this year," Bekar pledged.
Somali deputy prime minister, Mahdi Mohamed  Guled who also witnessed the signing of the deal said the nation will benifit from reconstruction of Hawaadley and Sabuni reservoirs.
" The project will inject the nation over ten beneficial programmes including increasing food production which lowers food shortages and the hunger,  availability of adequate water for irrigation, flood management and exportation of the country's farm products," Guled explained.
Somalia and Turkey have signed several deals including trade, agricultural, education and among others.
Last Month, Turkish delegation led by ambassador Baker had toured Somalia's southern regional state, Jubbaland for assessment ahead of Turkey's investment in Jubbaland.
The ambassador and delegation who visited Goobweyn town had pledged to implement development projects in the town which is famous fish and farm products