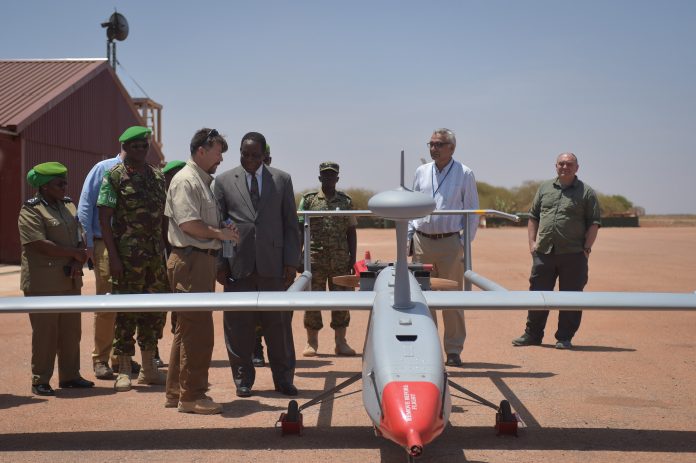 The Special Representative of the African Union Commission Chairperson, SRCC, for Somalia Ambassador Francisco Madeira has commended the United States for its continued support to the African Union Mission in Somalia, AMISOM, in its fight against terrorism.Ambassador Madeira made the remarks on Monday during the unveiling of a new U.S. government-funded Aerial Surveillance System at the Baledogle Military Airfield, in Lower Shabelle region.
The system, which will serve as a force multiplier, is expected to enhance the effectiveness of field operations conducted by AMISOM troops in various parts of the country.AMISOM has on numerous occasions appealed for force enablers to enable it launch successful military operations against Al -Shabaab and liberate areas under the control of the militants.
The Mission plans to intensify operations to secure the country as the gradual transfer of   national security responsibilities to Somali national security forces continues as planned.Ambassador Madeira, who was accompanied by senior AMISOM officials, noted that the platform will provide troops with much needed real time intelligence, which will help detect and monitor armed groups.He appealed to other development partners to emulate the U.S., which not only supports AMISOM troops but also the Somali National Army (SNA). The SRCC said strengthening Somali security forces was critical in achieving long term peace and security in the country.The Charge d'Affairs of the U.S. Mission to Somalia, Martin Dale, reiterated the commitment of the U.S. government to aiding the African Union, the AMISOM Troop Contributing Countries and the cause for peace in Somalia.